Onx Homes says it can build new houses in 60 days or less. Here's where it will debut in metro Orlando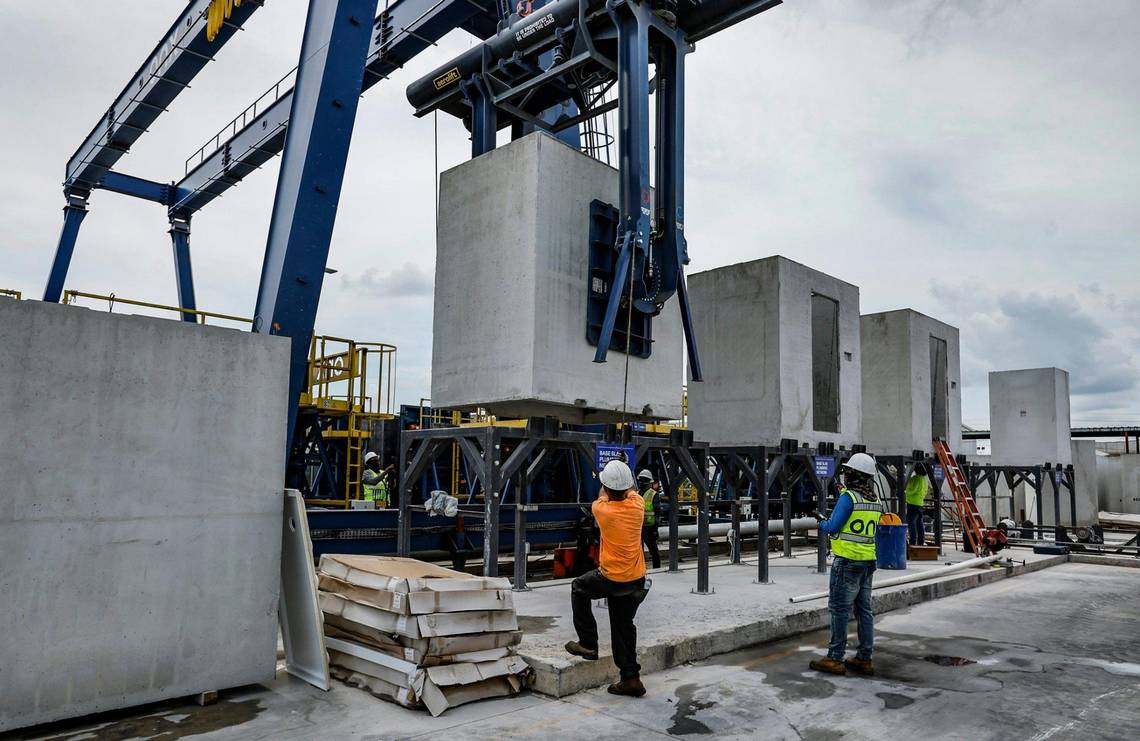 By Steven Ryzewski Orlando Business Journal
Published on Jun 23, 2023
A rendering of a home built by Onx Homes, a Carrollton, Texas-based homebuilder with a proprietary construction method that can build homes as fast as 60 days. | HMC
The small Lake County city of Mascotte is where a Carrollton, Texas-based homebuilder will debut its ultrafast, proprietary method of modular construction in the Central Florida market.
Onx Homes, which has a growing presence in Florida, will build a 200-home community in the Villa Pass development on Mascotte's east side.
Groundbreaking on the community, set to rise at the northwest corner of Villa City Road and Underpass Road, is expected in early July.
The project is significant as it will be the first local use of Onx's X-Construction technology — which executives for the firm say can build homes within 60 days.
Census data has the average build time for a single-family home at seven months — more than three times longer than when Onx says it can deliver a home within.
Founded in 2021, the startup homebuilder has delivered about 5,000 homes in South Florida and Texas. Onx also broke ground in February on a community in southern Miami-Date County, reported sister newspaper, the South Florida Business Journal.
Onx Chief Operating Officer Ravi Bhat said identifying the opportunity in Mascotte was part of an intentional desire to grow its presence in Florida. "We want to be in that area — the Orlando area. We've been in South Florida for a year-and-a-half or so, and now we're expanding to the north."
Under the homebuilder's X+ Construction technique, major parts of the homes are manufactured off-site and delivered to the job site, where they can be installed quickly. This is important, Bhat said, as time is an important cost.
Onx builds "pods" containing the bathrooms for new homes. | Onx
The interior and exterior walls of Onx homes are made of concrete, with roofs consisting of light-gauge steel and shingles.
Because of the strength of the homes, Onx executives say they well exceed hurricane code for storm-prone coastal areas — and homes built in inland Mascotte will have those same safety features. "At the end of the day, people are looking for safe homes," Bhat said.
Despite the modular nature of the construction type, Bhat told Orlando Business Journal the Villa Pass community will have one- and two-story homes with three- and four-bedroom floor plans, offering homebuyers several options.
He declined to reveal what the homes will cost, saying the sales team still is working through pricing structures, but Onx Homes' website shows its three South Florida communities as having home prices beginning in the $400,000s and $500,000s.
Modular construction projects, in both the residential and commercial sectors, are worth following, as they can help offset one of the big problems facing Florida's construction sector: a labor shortage.
"The demand for new construction projects is increasing and the workforce has been diminishing," previously said Bryan Bernardo, the construction director in the Orlando office of Kansas City, Missouri-based engineering firm Burns & McDonnell.
As OBJ previously reported, Orlando saw a 7% drop in individuals employed in construction in 2022 at the same time construction starts were spiking.
Also, the rise in the use of these types of techniques is important beyond just solving labor challenges, said Bill Finfrock, president of Apopka-based developer and builder Finfrock.
Bill Finfrock, president of Apopka-based Finfrock
Finfrock told OBJ there are also financial incentives that likely will encourage developers and contractors to lean into this evolution. "One of the huge benefits of modular is you can do things way faster — and time is money. Time equals cost."
The annual market share for permanent modular construction rose from 2.14% in 2015 to 4.39% in 2020, when its project value surpassed $8 billion, reported the Charlottesville, Virginia-based Modular Building Institute. Significant growth is forecast for modular construction between 2023 and 2030, anticipating a compound annual growth rate of 6.4%, per Data Bridge Market Research.
Story Link: https://www.bizjournals.com/orlando/news/2023/06/23/onx-homes-x-plus-construction-mascotte-new-build.html