A unique modular construction technique makes its Central Florida debut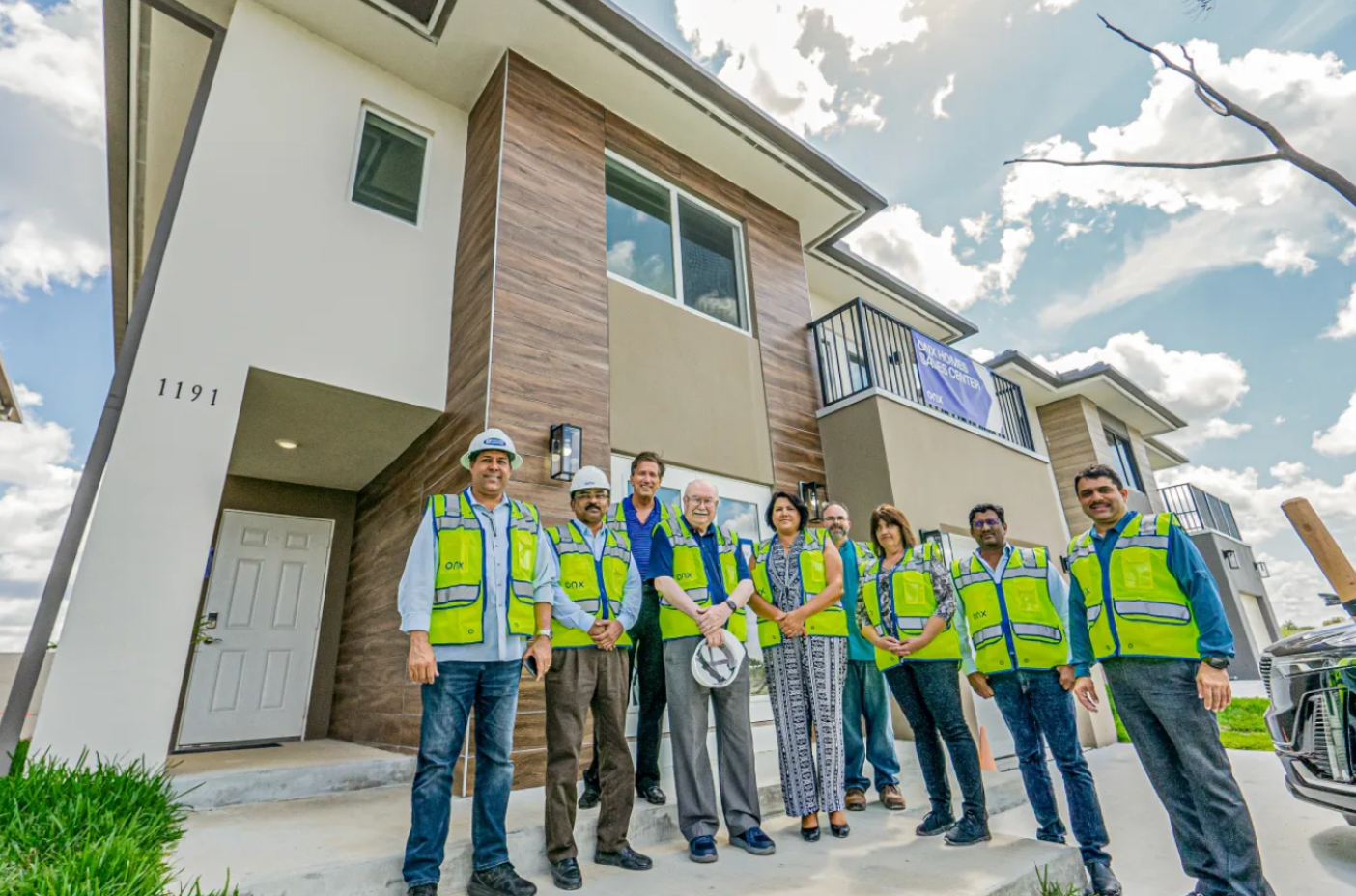 By MIKE BRASSFIELD | GrowthSpotter Contributor May 18, 2023 at 12:09 p.m.
This is an example of a home constructed by Onx Homes using patented modular construction techniques. (Handout courtesy of Onx Homes)
A Miami-based development company is bringing its own form of modular construction to Central Florida.
The company, Onx Homes (pronounced like Onyx), has taken over a development in the small town of Mascotte in southern Lake County, west of Orlando. There, it plans to soon break ground on what will be 200 hurricane-resistant concrete homes made of rooms and walls that were first assembled in a factory.
"All the elements of the home are built at the factory. They come to the site like Legos, and they get assembled at the site," said RaviBhai, Onx's chief operating officer.
This isn't 3-D printing. Instead, Onx uses a patented technology called "X+ Construction" to mold and cast an entire structure, building a house in as little as 30 days. A factory in Homestead in South Florida also builds kitchen and bathroom "pods" — complete, self-contained units that are ready to be installed in a house as is, with plumbing included.
In June, the company will break ground on a residential community called Villa Pass, located on the eastern edge of Mascotte on Villa City Road.
The project is so unique that a team of Mascotte city staffers recently toured Onx's Homestead factory to observe the construction process.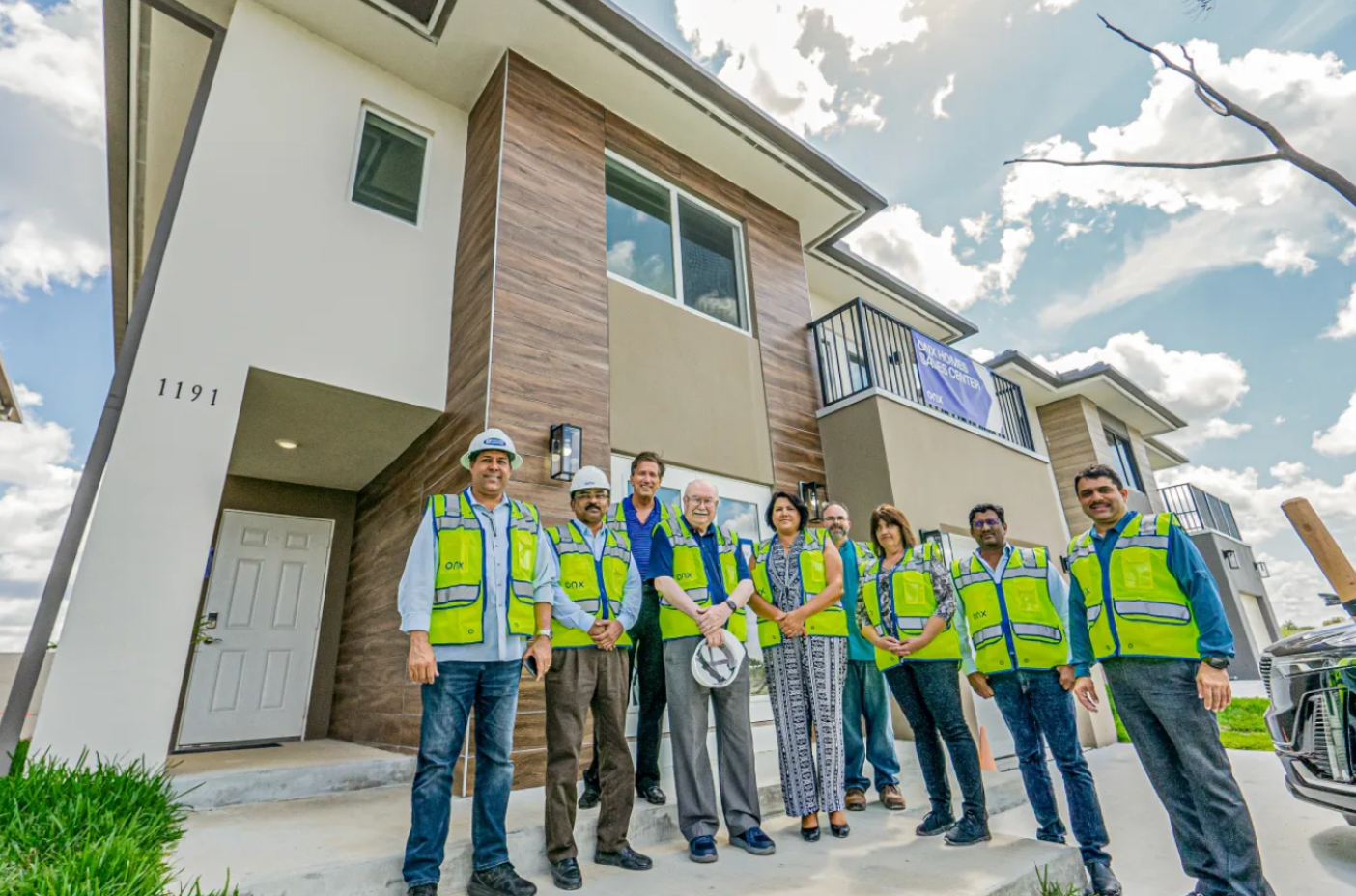 Mascotte City Manager Annamarie Reno and members of the building department toured the Onx factory in Homestead. (Handout courtesy of Onx Inc.)
"This isn't something we typically do. However, the product is very unique, and the building department had several questions they wanted to address," said Mascotte City Manager Annamarie Reno, who toured the factory with the town's building inspector and building coordinator. "This is technology our staff and the public in general has not seen before."
"For me personally, I have never seen a home built 100% of concrete and done so prior to being brought to the site," she added. "This is definitely a unique product that will do well in a state that is prone to hurricanes."
Onx has three factories in Florida — one that builds concrete foundations and staircases, another one that builds kitchen and bathroom "pods," and a third that builds exterior and interior walls as well as flooring and insulation. For Villa Pass, each pod and building component will be shipped by truck from South Florida to Mascotte.
Developers Bob Harrell and Ralph Singleton purchased the Villa Pass project last year for $7 million. Onx made a $2.25 million deposit toward a purchase agreement of the project, which will be executed after the plat is recorded.
Approved plans originally called for a 351-home subdivision, but Onx says it plans 200 single-family homes. Amenities will include a trail network and a pair of tot lots.
Villa Pass is one of several large-scale residential communities coming to Mascotte, a town of 7,000 that expects to see its population increase.
"If you look at the influx of people moving to Florida, all of Florida can use housing, not just Mascotte," the city manager said.
Onx launched in 2021 and has operations in Texas and Florida. It says it's building more than 2,000 concrete homes across Florida, not only in Mascotte but at four other locations on the southern end of the state.
"We picked Florida because it has a lot of hurricanes," said RaviBhai, the company's COO. "We're building homes made of concrete and rebar and steel — not just beautiful homes, but homes that will keep people safe and withstand the harshest hurricanes."
Modular construction techniques have recently started appearing in Central Florida. Universal Resorts used modular construction to build its Surfside Hotel at the Endless Summer Resort in just 15 months over 2018 and 2019 — the fastest and most efficient hotel construction project the company has ever completed.
It credits the design-build contractor FINFROCK, which developed and patented its own form of prefabricated construction called "DualDeck" where the company designs, manufactures and installs concrete panels. The system uses a pair of panelswith a 12-inch void that houses all of the mechanical, electrical and plumbing systems.
See article here
Have a tip about Central Florida development? Contact me at Newsroom@GrowthSpotter.com or (407) 420-6261. Follow GrowthSpotter on Facebook, Twitter and LinkedIn.