Innovation Reshapes Construction Industry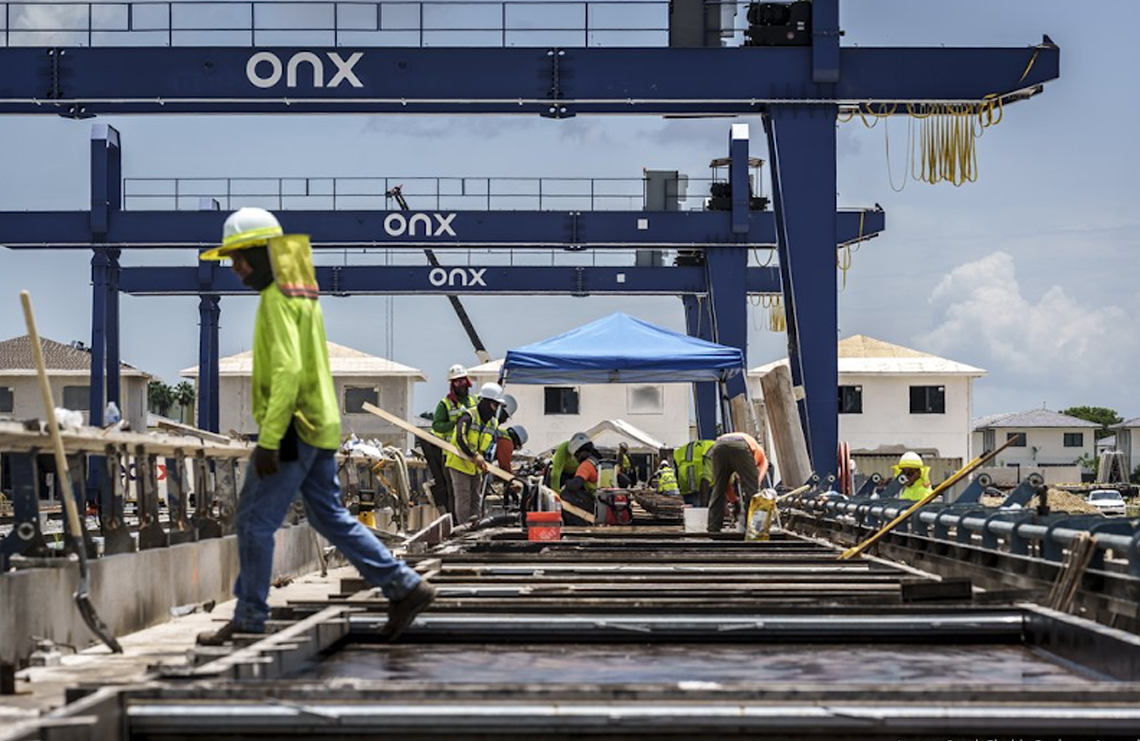 By Brian Bandell – Real Estate Editor
Outlet: South Florida Business Journal
Published on Sep 8, 2023
Onx Homes employees make prefabricated concrete slabs at the onsite Onx Homes facility at the Alba residential development in Homestead.
The basics of how buildings are constructed have remained mostly the same for nearly 100 years, but innovative building methods could transform the construction industry.
Homes completed in three months with modular construction. Machines for 3D printing creating concrete columns to replace aging structures. Multistory buildings assembled with Lego-like blocks. Even robots replacing human workers for some jobs. Construction innovations like these could make building faster, less expensive and less reliant on manual labor.
All of that is badly need in this climate of soaring construction costs, loans with high interest rates and a labor shortage. If these innovative constructions methods are successful, it could allow more South Florida developments that were otherwise cost-prohibitive to move forward.
Now, more than ever, general contractors have to work harder to ensure development projects pencil out financially, said Brian Sudduth, president of Fort Lauderdale-based Miller Construction.
"Designers continue to push the envelope on what a building should look like, and it needs to have more architectural flare," he said. "Material costs have been out of control. We could price a building 10 or 20 different ways before we figure out the best construction type."
Miller Construction has considered using prefabricated construction, but it depends on the requirements of the job, Sudduth said.
One of the most advanced prefabricated residential developers in the nation is building hundreds of single-family homes and townhomes in Miami-Dade County. Texas-based Onx Homes has completed 350 homes in the Homestead area since it launched two years ago. COO Ravi Bhat said it can complete a house in less than three months, compared to an industry average of about seven months.
Onx has manufacturing facilities in Homestead and Pompano Beach where it prefabricates major components before hauling them to the job sites and assembling them, Bhat said. It manufactures foundations, typically made with 13 to 17 blocks per home. It assembles bathroom pods, a nearly complete bathroom with electrical and plumbing. It produces outer walls of concrete and roof trusses made from fabricated recycled steel. It also uses steel frames for the interior walls.
The only wood in Onx's homes are in the cabinets and doors, Bhat said, so they're resistant to termites. The concrete homes also have better insulation, so they reduce air-conditioning costs and there is less chance of water leaks, he said.
"The world has transformed with technology, but the home industry has not transformed," Bhat said. "We are building homes today like we have for centuries. When customers buy a home, they want to move into it as soon as possible. We are trying to build these homes in 60 days or less."
Because it's a new and unique construction process, local building departments may struggle to keep approvals on pace with Onx's delivery schedule, but Bhat's seen improvement as inspectors learn more about the construction methods.
In terms of savings, while opening the factories was a big upfront capital expense, Bhat said the process of home construction is less expensive, uses less labor and moves much faster, which reduces carrying costs on the property. That allows Onx to offer competitive prices and more upgraded finishes in homes, he said.
Onx is working on a similar prefabricated factory process near Austin, Texas, that uses light steel instead of concrete, Bhat said.
"We're getting these two homebuilding technologies up and running, and then we'll take them to different states,depending on the building code and the environment," he said.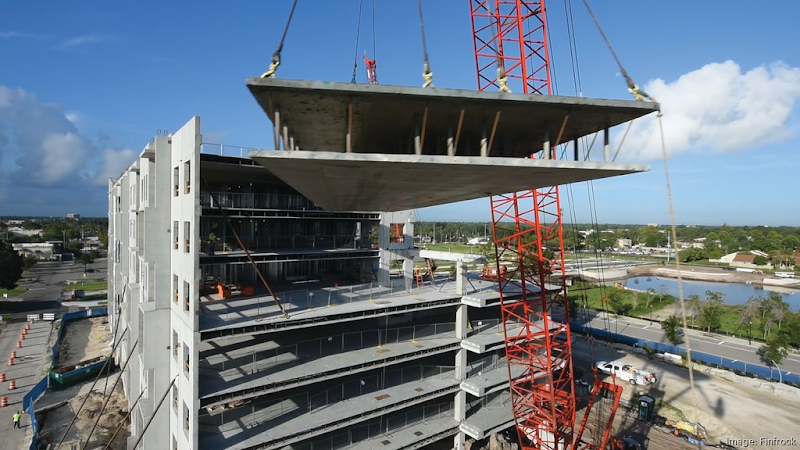 Developers can also utilize precast concrete for commercial buildings, the specialty of Apopka-based Finfrock, which has a second manufacturing facility in Belle Glade. It has a patented DualDeck system through which whole floors, walls and ceilings are manufactured in its plants, hauled to the job site and then hoisted into place.
The company, which has been around for 78 years, acquired the DualDeck system in 2014, said Dan Helmick, executive VP of project development. After advancing the system, nearly the entire building, aside from the foundation and the slab, is precast. The company also does architecture, structural engineering and subcontracting in-house.
Finfrock's sweet spot is six- to 20-story buildings, Helmick said. It mostly builds multifamily, student housing, hotels, offices and parking garages.
"From a construction cost perspective, it's similar to hard costs of other systems," he said. "Where the significant amount of savings comes from is time. We will deliver it months faster, which saves on interest on the loan. The sooner the building is open, the sooner you get revenue. Plus, labor costs are down."
DPR Construction has used precast construction for commercial buildings for 20 years, and for 11 years in South Florida, said Adrian Barrios, business unit leader in South Florida for the Redwood City, California-based general contractor. It mostly uses precast for medical facilities, hotels and education buildings, such as the College of Engineering building it's currently erecting at Florida International University's main campus.
It builds full walls, with windows installed, and assembles them at the job site. It manufactures bathrooms pods in Orlando, often for hospitals and hotels. Bringing the plumbing, flooring and electrical trade workers to the factory instead of the job site is safer, more efficient and allows them to work sheltered from the weather, Barrios said.
New building material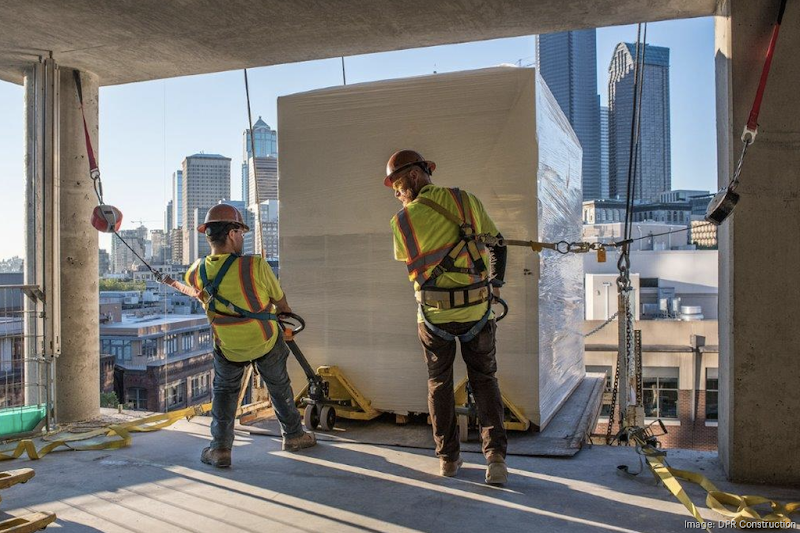 Not only does Renco USA have a different building system, it uses a new building material.
The Miami-based company recently raised $18 million in convertible notes, a deal that values the company at $318 million. Founded by Coastal Construction CEO Tom Murphy Jr., Renco USA uses a composite building material developed in Turkey. Renco is a mix of recycled glass, recycled plastic, calcite limestone dust and resin. The composite is formed into blocks, and an adhesive glue melds the blocks together into a monolithic structure that's incredibly strong and long-lasting, said company principal Patrick E. Murphy, son of its founder.
Murphy said Renco is the first new building material developed in over 100 years. It doesn't require skilled labor to assemble, produces fewer carbon emissions and waste, and it has a lifespan of about 250 years, compared to about 40 years for most types of concrete.
Renco USA is constructing its first building – a three-story, 96-unit apartment complex – in Palm Springs. The company plans to construct a factory in Jupiter later this year to boost production, Murphy said.
He said Renco USA has approval for buildings of up to five stories, and it's working on eight stories. He said the material cost is 20% lower than concrete or wood.
"With the environment we are living in, with inflation and prices of cement and wood going up, our material is not correlated to that," Murphy said. "We have all sorts of labor issues in this country, and certainly in Florida. You don't need skilled masons with Renco. The blocks fit together like Legos."
GC goes VC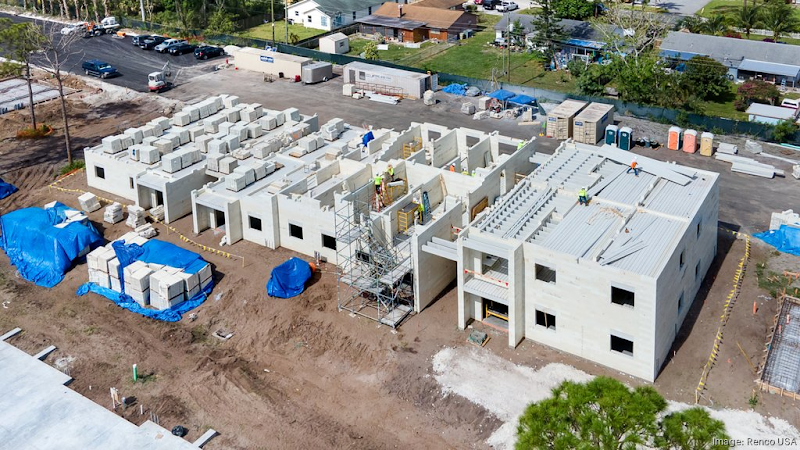 Boston-based Suffolk Construction isn't just one of the nation's largest general contractors; it's also a venture capital investor in new construction methods through its Suffolk Technologies arm. The company recently closed a $110 million fund for investment in startups, said Jay Fayette, regional president of Suffolk's Florida East Coast market.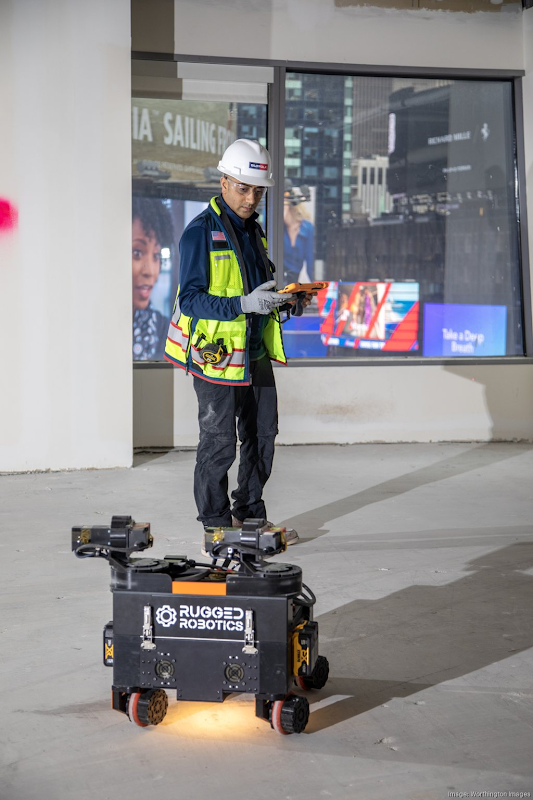 It invested in Rugged Robotics, which makes a robot that surveys floor and wall layouts inbuildings, aiming to do it more efficiently and accurately than a human survey crew, Fayette said. Another robotics firm Suffolk is working with is Canvas, which finishes drywall with the assistance of a human operator.
"Over the last two decades, construction productivity has fallen off, primarily because of the exodus of people from the industry," Fayette said. "It's really a challenge for all construction companies to reengage the youth back into trades. These robotic systems can augment the labor supply."
Suffolk also uses OpenSpace's helmet-mounted camera, which works with an artificial intelligence program to track construction progress and ensure work is going according to plan. It started working with WINT, an AI-powered system that detects water leaks and automatically shuts down the water to mitigate damage.
"We think AI is going to make huge progress in design," Fayette said. "Designing plumbing and electrical systems that could take months would take minutes. That is where this is evolving to."
3D printing the future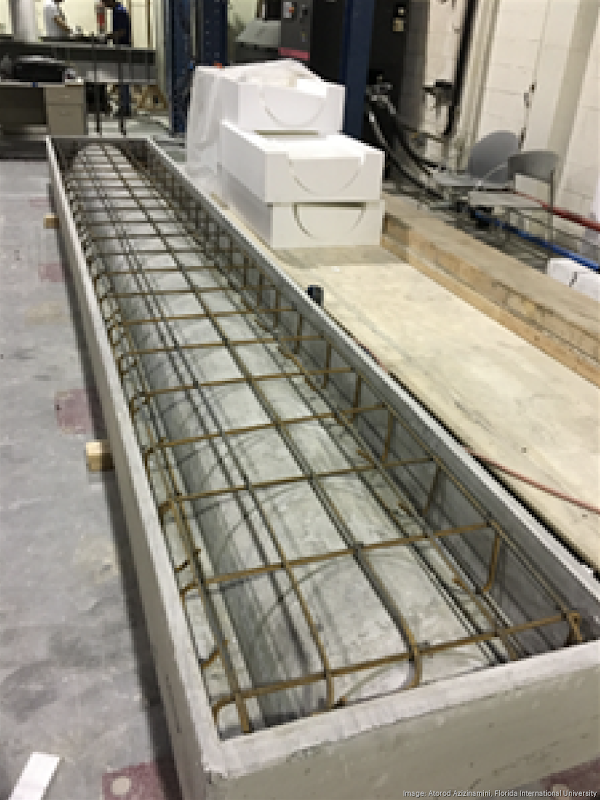 One of the most revolutionary developments in construction is 3D printing. Miami-based Lennar Corp. started building a 100-home community near Austin, Texas, with 3D printing builder Icon in 2022. Lennar, which declined to comment, invested in Icon to potentially scale up its technology to make homebuilding faster and less expensive.
Closer to home, Florida International University has one of the biggest programs in 3D printing construction, civil engineering professor Atorod Azizinamini said. The university received a $3.2 million grant in 2022 from the Army Corps of Engineers to research 3D printing with ultra-high-performance concrete, and it also works with the U.S. Department of Transportation.
Using 3D printers built from scratch, FIU is creating columns for both bridges and buildings, he said. One of the most useful functions of 3D printing is shoring up existing columns that are weak by printing durable layers of UHPC, he said.
"This material is very strong, and it doesn't take much of it to strengthen an existing column," Azizinamini said. "The cost is not that significant."
While 3D printing isn't capable of creating high-rise buildings right now, Azizinamini believes that will change in the future. With shortages of materials and labor, the building industry will inevitably move toward robots and 3D printing to assemble all types of buildings.
"New, innovative technology takes time to find its way into building practices, but it's coming," Azizinamini said.